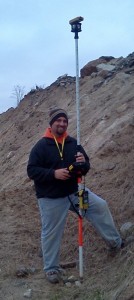 Services Provided:
Boundary Surveys
Subdivisions
Topographic Surveys
Construction Stakeout
Elevation Certificates
Asbuilt Surveys
ALTA/NSPS Surveys
Surface Modeling
Wetlands Surveys
Environmental Permit Surveys
Armstrong and Associates begins Surveys of Test Fill Zones at Rocky Pen Run Reservoir, Stafford County Virginia. We are licensed in Virginia and North Carolina.
We work in extreme conditions to meet Client's needs.